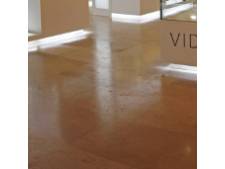 The Parque Natural de las Hoces del río Duratón is situated to the northeast of Segovia, downstream from the town of Sepúlveda. In this area, the river has settled inside a deep canyon which in some places has over 100 metre drops. To the landscape's beauty and interest we must add the great archaeological and historic richness contained inside the gorge.
Up in the rocks presiding the gorge, almost 500 pairs of Griffon vultures have built their nests, accompanied by a large number of Egyptian vultures, golden eagles and peregrine falcons.
The area's natural value is also enhanced both historically and artistically by the Romanesque sanctuary of San Frutos, caves with paintings from the Bronze Era and the architectural collection of Sepúlveda. In this town, it is almost obligatory to taste the delicious local roast meats.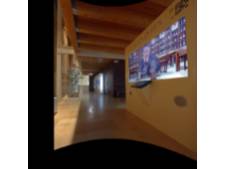 La Ermita de San Frutos (Sanctuary of San Frutos)
The simplest route on foot around the Hoces del Duratón starts in the esplanade where the route of Villaseca ends. From there, one must head for the rock mass surrounded by precipices, where the sanctuary of San Frutos is situated. After crossing a deep crevice, named La Cuchillada, via a stone bridge, we climb to the ancient Benedictine monastery. After contemplating the 17th century Romanesque construction, one can continue to its nearby cemetery where there are many early medieval anthropomorphic tombs.
Geographical information
Visits allowed
Location:

IN THE NORTHEAST OF THE PROVINCE OF SEGOVIA. ACCESSED VIA THE E-05 TURNING IN BOCEGUILLAS FOR THE SG-233 TOWARDS SEPÚLVEDA . FROM SEGOVIA ITSELF, TAKE THE N-110 TO THE E-05 AND EXIT TO BOCEGUILLAS FOR SEPÚLVEDA VIA THE SG-233. ALSO FROM CANTALEJO, TAKE THE SG-232
Area (ha.):

5037
Fauna:

A paradise for birds of prey, with Griffon vultures and Egyptian vultures. They coexist with peregrine falcons, buzzards and kestrels.
Fauna type:

booted eagle
Geography:

Extensive collection of gorges, canyons and cliffs excavated by the river Duratón out of Mesozoic limestone.
Vegetation:

An area dominated by the incense juniper, rock clefts and slopes with rock-dwelling species and riverbank woods alongside the river.
Vegetation type:

elm tree
Detailed environmental information
Values

THE DEEP GORGES BETWEEN SEPÚLVEDA AND BURGOMILLODO CREATED BY THE RIVER DURATÓN, WITH WALLS OF OVER 100 M. PRESENCE OF IMPORTANT BIRDS (GRIFFON VULTURE).

Geomorphology

PALAEOZOIC MATERIALS AND MESOZOIC LAYERS. THE STRUCTURE OF THE NATURAL SPACE IS A SYSTEM OF PLEATS SEPARATED BY GENTLE SYNCLINES. THE RIVER DURATÓN RUNS THROUGH THE ACCUMULATED LIMESTONE WHICH GAVE RISE TO THE HOZ DEL DURATON.

Protection

NATURAL PARK SINCE 1989. SPECIAL BIRD PROTECTION ZONE SINCE 1990.

Landscape

THE RIVER'S ACTION ON THE LIMESTONE HAS GIVEN RISE TO NUMEROUS CAVERNS SUCH AS THE "CAVERNA DE LOS 7 ALTARES", PRECIPICES FLANKED BY WALLS OVER 100 M HIGH. THE RIVERBANK VEGETATION CONSTRASTS WITH THE OCHRE OF THE ROCKS.
Remarks
Contains the communities of:
Castrillo de Sepúlveda, Villar de Sobrepeña and Villaseca.
Municipalities: Sepúlveda, Sebúlcor and Carrascal del Río.

Web page:
http://www.sepdeco.es/sepulveda/hoc.htm
------------------*************************---------------------
Restricted visits
From 1st January to 31st July.
There is a restricted trail: This time of the year, it begins in the Puente Talcano and carries on until the Puente de Villaseca, 24 km round trip; To do it on foot, maximum of 5 people per group and on a bike, maximum of 3 people per group.
GROUPS NEED TO ASK PERMISSION.
A maximum of 75 people obtain permission per day.
In the last area of the park, where non-motorized boats are permitted, there is a restriction of a maximum of 2 people per canoe or a maximum of 4 boats at the same time. Visitors owning their own boat must ask permission. If canoeing activities are arranged through companies, they will normally have permission.
..................................................................
Non-restricted visits
SENDA DE LOS RIOS: A circular route of about 5 km. On foot. Medium difficulty and about an hour and a half duration. (Ruta de la Senda de los Ríos: see below)
ERMITA DE SAN FRUTOS: Also on foot. Groups of 20 people max. must ask permission from the Department of the Environment. (Route from Sepúlveda to the sanctuary: see below)
To visit the Centro de Interpretación (Interpretation Centre) in groups, ask for permission from the centre itself. (921) 540586
-----------------------------------------------------------------
--------------***********************************--------------
Description of the park
The Natural park contains the course of the river Duratón, from Sepúlveda to the dam of Burgomillodo.
Route of 25 kilometres where the river has excavated limestone rocks, creating a meandering ravine between walls of over 70 metres in height.
FAUNA: important colony of Griffon vultures, and one of the largest breeding grounds in Europe.
TOURIST RESOURCES: Cave paintings from the Bronze Era; Roman roads and bridges; small cave dwelling of Visigothic origin; Romanesque sanctuaries, such as the Ermita de San Frutos, and the ruins of the Convento de Ntra. Sra. de la Hoz.
INTERPRETATION CENTRE: Situated in the Iglesia de Santiago, in Sepúlveda, which has been restored for that purpose.
It includes an exhibition which introduces the visitor in the space's natural and cultural reality, through an imaginary journey around the park; there is an audiovisual room and a reception area with specialised monitors.
Fluvial TRENCHES AND CANYONS from Sepúlveda to the dam of Burgomillodo. The action of the river on the limestone has given rise to numerous caverns, such as the "Caverna de los siete altares" ("Cave of the Seven Altars"), near the road that links Cantalejo with Villaseca (near Villar de Sobrepeña). There are many altars, built apparently by the Visigoths.
OTHER CAVES in the canyon that contain cave paintings are La Huelga, El Cabrón, La Molinilla and El Pájaro.
MONUMENTS: Remains of the Franciscan convent of Ntra. Sra. de la Hoz; Ermita de San Frutos Pajarero.
OTHER CANYONS within the park: El cañón de la Perdida o Barranco de la Hoz (near the Cueva de Siete Altares); Valle del Tabladillo (further up from the dam).
ERMITA DE SAN FRUTOS PAJARERO: situated in the high part of a narrow rocky peninsula, accessed via a narrow 18th century bridge that crosses a rocky cleft, which, according to tradition, was created by a saint to save a group of Christians pursued by Muslims.
-----------------****************************------------------
Routes around the Park

ROUTE SEPÚLVEDA- ERMITA DE SAN FRUTOS: Leave Sepúlveda via the Segovia road, taking the turn towards Villar de Sobrepeña at the crossing situated one kilometre down the road. One stretch of the road travels alongside the canyon (visitors can see the meeting point of the rivers Casillas and Duratón), so one can see the cliffs, the river Duratón, riverbank vegetation and an abandoned meanders. After passing the town of Villar, the road descends towards the valley of the river San Juan (another tributary of the river Duratón). At the crossing, take the left turn towards Villaseca. From Villaseca, take the earth road that starts at the church and walk 4 kilometres to the parking lot. From this parking area, descend to the Ermita de San Frutos (about 900 metres away).

SENDA DE LOS DOS RIOS: Leave the Centro de Interpretación, in Sepúlveda, then head towards the Plaza Mayor (main square). Follow the Calle Barbacana (town road) to the Arco del Ecce Homo and cross it. Follow the road to its end and reach the esplanade where the Iglesia de la Virgen de la Peña is situated. Behind the church, is the Mirador Virgen de la Peña (great views), where there are information panels about the Park.
Take the path which starts on one side of the Guardia Civil headquarters towards the Puerta de la Fuerza, go down the Roman road, about 400 metres. A bit further down, the cliffs appear (you can observe Griffon vulture nests). Carry on, in silence, towards the Puente de Picazos, and cross the bridge to enter the Natural Park. Take the left path from Puente de Picazos, follow the trail that crosses the poplar grove and pass the ruins of a house until you reach the wooden walkway. Cross the ledge and descend to another poplar grove (at this point, the rivers Casillas and Duratón come together). The road leads to the old electric plant. To the right of the road we find an old dovecote and on the other side of the river, the geological formation "Silla del Caballo" (saddle). Go down towards the Puente de Talcano and cross it. The path ascends to the Segovia road. Cross the road and follow the trail until you reach a small bridge, cross it and head for the right (the walls of Sepúlveda on one side and the river Casillas on the other). Go up the old Segovia road and enter Sepúlveda through the Puerta del Río o de las Pucherillas and return to the Iglesia de Santiago, interpretation centre and starting point.
Duration: 1:30 hours, 5 km // Dificulty: medium
-------------***********************************---------------
Recreational Areas: in Carrascal de Río and Sebúlcor, children's games, tables, benches, barbecues, educational equipment, botanical trail, ... In the viewpoint of La Virgen de la Peña, there are information panels about the fauna, flora, geology and history of the zone.
----------------*******************************-----------------
Sports: Hiking, cycling, canoeing, etc...
------------------------------------------------------------------