Webinar Especificaciones del reglamento del sello "Turismo de Confianza": Turismo Activo, Guías de Turismo, Agencias de Viaje y Oficinas de Turismo
Viernes 3 de julio de 2020
9:30 h. Procedimiento para Turismo Activo y Guías de Turismo.
11:30 h. Procedimiento para Agencias de Viajes y Oficinas de Turismo.

Ponentes:
Alberto Hernando Carro, Director de Proyectos en Symbiosis Consultores
María Lanao Garcia-Abril, Directora de proyectos en Symbiosis Consultores.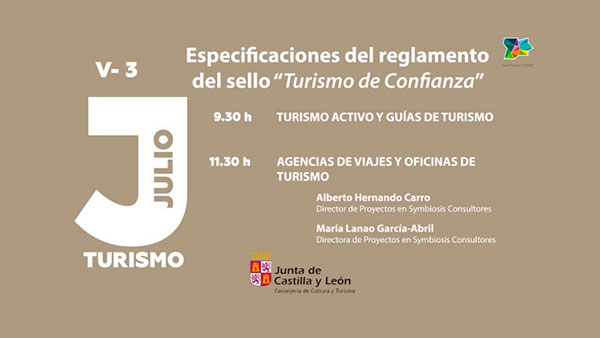 Imagen en alta resolución. Este enlace se abrirá mediante lightbox, puede haber un cambio de contextoWebinar Especificaciones del reglamento del sello "Turismo de Confianza"
A set of common objectives that contribute to the improvement of the competitiveness of the tourism sector in the region, is established[...]
¿Do you need information?