Webinar Especificaciones del reglamento del sello "Turismo de Confianza": Turismo Rural y otros alojamientos no hoteleros, y establecimientos de restauración
Viernes 26 de junio de 2020
9:30 h. Procedimiento para alojamientos del Turismo Rural y otros alojamientos no hoteleros.
12:00 h. Procedimiento para establecimientos de restauración.

Ponentes:
Alberto Hernando Carro, Director de Proyectos en Symbiosis Consultores
María Lanao Garcia-Abril, Directora de proyectos en Symbiosis Consultores.
La Consejería de Cultura y Turismo ha diseñado el sello de Turismo de Confianza, iniciativa que pretende reforzar la marca turística de Castilla y León a través de la creación de un distintivo al que voluntaria y gratuitamente podrán acceder todos aquellos establecimientos y profesionales turísticos, que, a través de una declaración responsable se comprometan a desarrollar su trabajo cumpliendo determinados criterios específicamente diseñados para ellos.
Para ello hemos organizado unos webinars dedicados a cada uno de los subsectores turísticos, ofrecido por la consultora que está desarrollando el reglamento del sello para cada subsector así como el cuestionario de autoevaluación que tendrá que completar cada solicitante.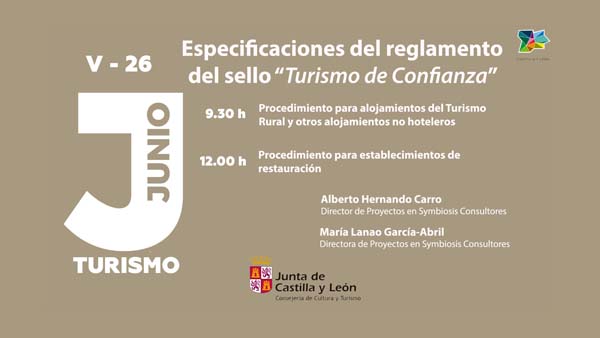 Imagen en alta resolución. Este enlace se abrirá mediante lightbox, puede haber un cambio de contextoWebinar Especificaciones del reglamento del sello "Turismo de Confianza"
A set of common objectives that contribute to the improvement of the competitiveness of the tourism sector in the region, is established[...]
¿Do you need information?