Museums
Educate the senses
Museo Textil de Béjar
The City of Bejar acquired an industrial land in the North of the municipality of Bejar (Salamanca) for its restructuring into Textile Museum. The property, called "San Albin", consists of land, buildings and a concession for the hydraulic exploitation of 800 m/s "out of the low water period".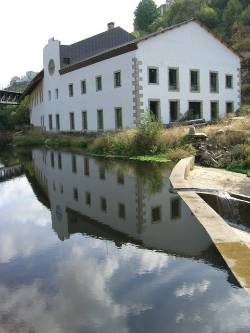 High resolution image. This link will open using lightbox, there may be a context switchmuseo textil
The factory complex has two buildings of two and three floors respectively, linked by the central volume serving for the accommodation of hydraulic machinery. Its location on the North side, by the river, is the most characteristic of the traditional textile industries of the city, with an isolated typology. It is formed by groups of buildings expanded, renovated and adapted to the production needs of each moment. In this factory complex were in recent times the industry known as "Tintes Gilart".
The aim of the Textile Museum will be "to preserve and disseminate the scientific and technical heritage industry has led in Bejar."

Opening hours
Wednesday to saturday: 16:00 – 18:00
Closed: monday, tuesday and sunday
Tickets
General: 2 €
Reduced: 1 €
Groups: 1 €
(Free entrance on wednesday)
Remarks: CLOSED: 24th., 25th. and 31st. DECEMBER AND 1st. 5th. AND 6th. JANUARY AND 8th. SEPTEMBER. OPEN August, 15th.
This website shall not be responsible for the accuracy of this data