Webinar "Cómo crear espacios Covid protegidos en el Sector Turístico"
Jueves, 25 de junio de 2020, 10.00 horas.
Ponentes:
Carmen Serrano, Directora Nacional de Vigilancia de la Salud de Aspy Prevención.
Inma Brugues Descamps, Directora Técnica Nacional de Aspy Prevención.
Rubén García Rojo, Director Nacional de Prevención Técnica de Aspy Prevención.
La Consejería de Cultura y Turismo ha diseñado el sello de Turismo de Confianza, iniciativa que pretende reforzar la marca turística de Castilla y León a través de la creación de un distintivo al que voluntaria y gratuitamente podrán acceder todos aquellos establecimientos y profesionales turísticos, que, a través de una declaración responsable se comprometan a desarrollar su trabajo cumpliendo determinados criterios específicamente diseñados para ellos.
Para ello hemos organizado unos webinars dedicados, el primero, de un modo general, a aspectos que tienen que ver con la prevención de riesgos laborales.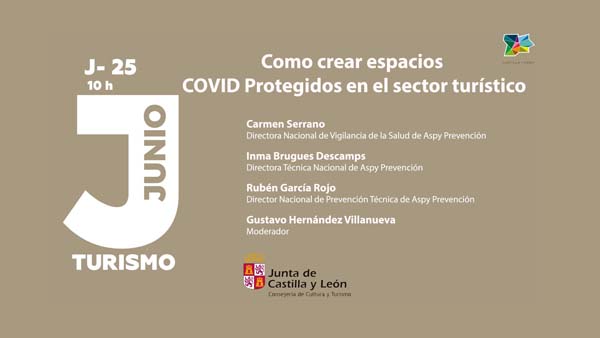 Imagen en alta resolución. Este enlace se abrirá mediante lightbox, puede haber un cambio de contextoWebinar "Cómo crear espacios Covid protegidos en el Sector Turístico"
A set of common objectives that contribute to the improvement of the competitiveness of the tourism sector in the region, is established[...]
¿Do you need information?